Browsing all articles from December, 2010

Posted in Festive24Things2010 by Jo Alcock

The time is almost here, just one more sleep until Christmas Day! Today is the last festive 'thing' we'll be doing so we would like to take this opportunity to thank you for joining in Festive 24 Things with us and we wish you all a very Merry Christmas.
But there's just one more thing to do first – find out where Santa is!
I'm sure many of you will have used Google Earth before (if not, I'd strongly recommend it – I could spend hours looking at different places on there!). If you haven't used Google Earth you will probably be familiar with Google Maps. Both are really useful tools for checking out places of interest and planning a journey.
But on Christmas Eve (today!) you can do something extra special with both these – track Santa's journey. If you go to Google Maps (also works on a mobile device) and simply search for "Santa" you'll be able to see whereabouts he is at the moment and track his journey around the world. You can also follow his journey in Google Earth (see the video below to see some of his 2009 journey), and track his journey on Twitter.
I hope you'll be asleep before he gets to you and that you've been good this year 😉
MERRY CHRISTMAS!

Posted in Festive24Things2010 by damyanti
This is my attempt at a festive online pop book using Zooburst, once you sign up and create an account you can choose characters, upload images and add text. It was pretty straightforward to do but my main tip would be to storyboard your idea first and collect all your images and text you want to use.
Take a look at our festive24things online popup book & let us know if you have any ideas of how this could be used in a work context.

Posted in Festive24Things2010 by Jo Alcock

Since we created the Festive 24 Things Flickr group earlier this month, many people have been adding new photos which have really helped get me in the festive mood. Please keep them coming, it's great to have somewhere to see lots of festive photos!
We promised that we would use some of your photos to create a future 'thing' and the time is now ready to show you what we made. We used Animoto to create a video featuring some of the photos from the group. Unfortunately, the free version of Animoto only gives 30 seconds and up to 12 photos (less if you include text) so we couldn't feature everyone.
It's really easy to use – you decide what template you want, then add your photos and any text you would like to include, choose your soundtrack and settings (you can adjust the speed if you wish), and Animoto does the rest for you. It only takes a few minutes and you have your video ready to share (there's also an option to export to YouTube which makes it easy to add it there). I was really impressed with how simple it was, and here is the result:
Many thanks to everyone for contributing photos – those who made it into the video include Katy Wrathall, Chrissy Lewis, Owen Stephens, Rochdale Library Service, Ben Elwell, Ian Clark, Katie Birkwood, and Andrew Dawson.
Create your own video slideshow at animoto.com.

Posted in Festive24Things2010 by damyanti
A common theme throughout the blog is looking at different means of presenting information, from video, talking avatars etc. I often use word clouds in presentations to help illustrate a point and provide something more visually appealing then a few bullet points.
Here we've used Tagxedo to create a festive word cloud of the text from our blog, unsurprisingly we have been using 'festive' a lot. I've also created a word cloud from my favourite xmas song, can you guess what it is?

Posted in Festive24Things2010 by Jo Alcock

Today's 'thing' isn't really a 'thing' (sorry!), but I thought it would be a good opportunity to share some cute/funny websites of pets with a festive theme.
As a cat owner, I may be slightly biased – but I've included dogs too (and everyone loves fluffy cats anyway right?!). If you have any other websites or links please share them with us in the comments on here or by sending us a message on Twitter.
The first website which made me giggle was the holiday tag on I Can Has Cheezburger, I particularly loved this one:
Then there's a special Christmas Simon's Cat video:
And for you dog lovers, how about this collection of cute festive photos of dogs:
Anyone else got any cute/funny festive pet websites or links? Please share with us in the comments if so 🙂

Posted in Festive24Things2010 by damyanti
I had a go at creating an avatar for the blog, it was easy & fun to do and thought it was a good way to add a little multimedia to the post. I have often wondered if avatars would be a good way to make a library FAQ page a little more dynamic and was interested to come across the chatbot used by University of Wolverhampton, Learning & Information Services
I used Voki and the hardest part was decided on what voice to use, so click play if you ready for festive cracker of a joke 😉

Posted in Festive24Things2010 by Jo Alcock

Yesterday we had a look at some Christmas videos on YouTube and shared a playlist, but as part of Festive 24 Things we also wanted to create our own video. Since Google now own YouTube, there are a few nifty features they have introduced and one of my favourites is Google Search Stories, a tool for creating videos of Google searches. It's really easy to use and takes you through the process of setting up your searches, choosing what to search (regular search, image search, map search, product search etc.) and adding a soundtrack. Below is our story about planning a trip to Lapland to visit Santa.
Why not have a go of creating your own search story? Please share the link in the comments if you do. 🙂

Posted in Festive24Things2010 by Jo Alcock

I'd be pretty surprised if anyone reading this hasn't heard of YouTube and watched videos on there. But did you know you can create playlists to easily share multiple videos and embed them into a blog? (I didn't until I did some exploring for today's thing!).
I chose a couple of festive themed videos I have enjoyed recently (including an obligatory cute cat video!), recipes for your favourite festive food/drink treats from the Twtpoll (winners were mulled wine and roast dinner with the trimmings), and a couple of my favourite Christmas songs. You can watch all the videos, or flick through them using the arrows at either side of the player or the screenshots at the bottom of the player. Enjoy!

Posted in Festive24Things2010 by damyanti

I was thinking about archive collections when I remembered  WeVee which I came across a year ago. I think its a fantastic way to interact with film archives and have really enjoyed viewing some fascinating old film footage . The service is currently in beta and much of the footage is about the west midlands.
WeVee allows you to edit film footage and add a soundtrack, a nice simple multimedia mash up, my 'festive' attempt is available to view at -Â festive24things1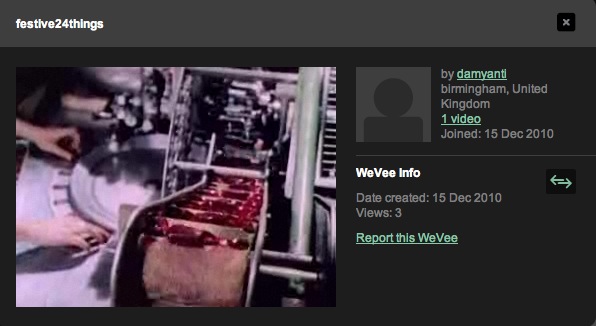 If you are interested in more discovering more great archive collections then the Archives Hub is a great place to start, covering nearly 200 UK institutions, some of their festive collections include

Posted in Festive24Things2010 by Jo Alcock

I don't know about you but I love a good Christmas film for getting me in the festive mood!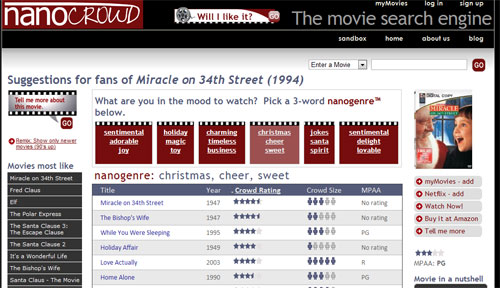 I recently found out about Nanocrowd which is a film search engine to help you find out more about films and discover films that are like (and least like) each other. You can also search for films within a particular theme or genre. I searched for one of my favourite Christmas films, Miracle on 34th Street, and selected a nanogenre with the words 'christmas', 'cheer', and 'sweet' which gave me other suggested films such as Home Alone and Love Actually (another favourite of mine!). This looks like it could be a really useful resource for discovering films.
Whilst looking for other festive film related tools, I came across these film poster mashups with festive themes, have a good look through – some really made me laugh. There are also some others in the Empire forum thread – I particularly like Jocks, Socks and Too Small Pyjamas. 😀
Calendar of posts
Recent Posts
Tags