Posted in Festive24Things2010 by Jo Alcock

I don't know about you but I love a good Christmas film for getting me in the festive mood!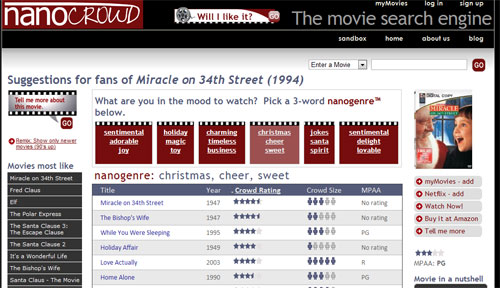 I recently found out about Nanocrowd which is a film search engine to help you find out more about films and discover films that are like (and least like) each other. You can also search for films within a particular theme or genre. I searched for one of my favourite Christmas films, Miracle on 34th Street, and selected a nanogenre with the words 'christmas', 'cheer', and 'sweet' which gave me other suggested films such as Home Alone and Love Actually (another favourite of mine!). This looks like it could be a really useful resource for discovering films.
Whilst looking for other festive film related tools, I came across these film poster mashups with festive themes, have a good look through – some really made me laugh. There are also some others in the Empire forum thread – I particularly like Jocks, Socks and Too Small Pyjamas. 😀
Calendar of posts
Recent Posts
Tags