Browsing all articles tagged with winner

Posted in Festive24Things2011 by Jo Alcock
Thanks to each of you who entered the Festive 24 Things quiz. We had three entries who correctly guessed each of the 24 clues, so we used the online random number generator to select a winner: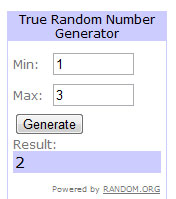 The winner is…. Georgina Hardy! Congratulations Georgina, and to all the other entrants who did very well indeed (everyone scored 23 or above!).
We'll post the full list of answers later today.
Calendar of posts
September 2023
M
T
W
T
F
S
S
1
2
3
4
5
6
7
8
9
10
11
12
13
14
15
16
17
18
19
20
21
22
23
24
25
26
27
28
29
30
Recent Posts
Tags