Posted in Festive24Things2011 by Jo Alcock
Thanks to each of you who entered the Festive 24 Things quiz. We had three entries who correctly guessed each of the 24 clues, so we used the online random number generator to select a winner: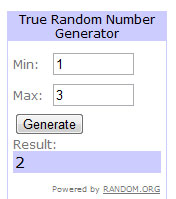 The winner is…. Georgina Hardy! Congratulations Georgina, and to all the other entrants who did very well indeed (everyone scored 23 or above!).
We'll post the full list of answers later today.
Welcome
Welcome to Festive 24 Things, originally an advent calendar based on the same idea as the 23 Things programme.
Join Damyanti, Jo and Trudi in their festive quiz through useful (and hopefully fun!) online resources. Each day there will be a cryptic clue to the title of a Christmas carol (or song) and a tool which will also give you clues. At the end of the 24 days, we'll ask you to submit your responses for each day and we'll draw a winner
Please subscribe to the blog, or follow us on Twitter.
Calendar of posts
January 2012
M
T
W
T
F
S
S
1
2
3
4
5
6
7
8
9
10
11
12
13
14
15
16
17
18
19
20
21
22
23
24
25
26
27
28
29
30
31
Recent Posts
Tags