Browsing all articles tagged with tags

Posted in Festive24Things2010 by damyanti
Delicious is a social bookmarking tool which allows you to collect all your bookmarks, ie favourite websites, blogs, videos etc in a central place. You simply create an account & start saving your bookmarks and you can then log into Delicious at anytime.  You can also group your bookmarks by tags and search for similar resources.
I found it a great way of collecting all the resources I might use in presentations or training and then sharing them with others.
So why not create yourself a delicious account, or if you've already got one, and help us create a list of festive online resources by tagging your bookmarks with 'festive24things'.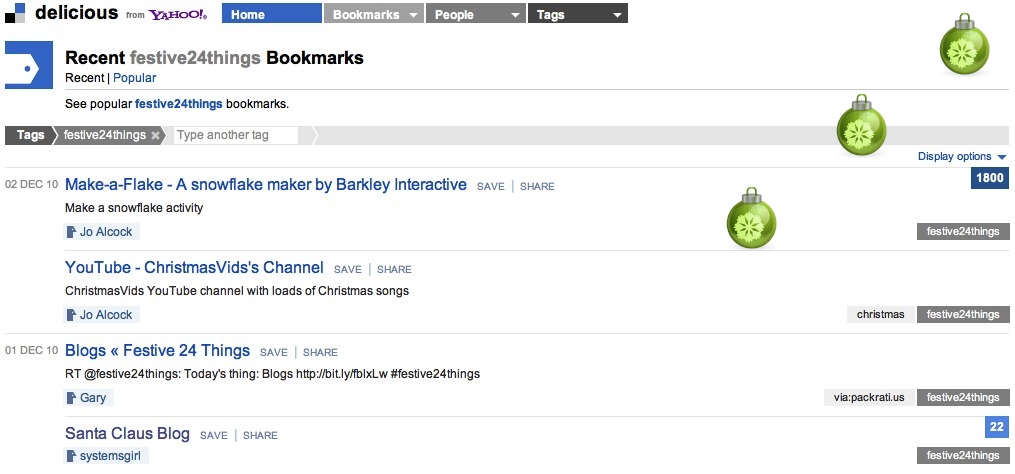 Welcome
Welcome to Festive 24 Things, originally an advent calendar based on the same idea as the 23 Things programme.
Join Damyanti, Jo and Trudi in their festive quiz through useful (and hopefully fun!) online resources. Each day there will be a cryptic clue to the title of a Christmas carol (or song) and a tool which will also give you clues. At the end of the 24 days, we'll ask you to submit your responses for each day and we'll draw a winner
Please subscribe to the blog, or follow us on Twitter.
Calendar of posts
October 2021
M
T
W
T
F
S
S
1
2
3
4
5
6
7
8
9
10
11
12
13
14
15
16
17
18
19
20
21
22
23
24
25
26
27
28
29
30
31
Recent Posts
Tags