Posted in Festive24Things2011 by Jo Alcock
Here are the 24 clues each with their corresponding answer:
Day 1 - Frozen precipitation commence – Let it snow
Day 2 – Array the Corridor – Deck the halls
Day 3 – Righteous Darkness – O holy night
Day 4 – Sound of Tinkerbell's end from the big apple – Fairytale of New York
Day 5 – Bleached yule – White Christmas
Day 6 – Monarchial triad – We three kings
Day 7 – Obese personification fabricated of compressed mounds of minute crystals – Frosty the snowman
Day 8 – The quadroped with the vermillion probiscus – Rudolph the red-nosed reindeer
Day 9 – Singular yearning for twin anterior incisors – All I want for Christmas is my two front teeth
Day 10 – Bantam male percussionist – Little drummer boy
Day 11 – I heard ugly sisters: Nancy, Moira and Princess Charlotte – I saw three ships
Day 12 – The dozen festive 24 hour intervals – The twelve days of Christmas
Day 13 – Bidding everyone festive joy – We wish you a Merry Christmas
Day 14 – Castaneous coloured seed vesticated in a conflagration – Chestnuts roasting on an open fire
Day 15 – Parent was observed oscillating a red coated unshaven teamster – I saw Mommy kissing Santa Claus
Day 16 – Musical slogan advertises whisky – Jingle bells
Day 17 – New born Nick – Santa baby
Day 18 – 1066 and all that describes monarch in unorthodox Czech landmark – Good King Wenceslas
Day 19 – Arrival time; 2400 hours-weather cloudless – It came upon a midnight clear
Day 20 – Proceed and enlighten on the pinnacle – Go tell it on the mountain
Day 21 – Swingin' around and around the richest master – Rockin' around the Christmas tree
Day 22 – Give Attention to the Melodious Celestial Beings – Hark the herald angels sing
Day 23 – Willoughby dines out – The holly and the ivy
Day 24 – Red man en route to borough – Santa Claus is coming to town
Thanks to everyone who joined in! 🙂

Posted in Festive24Things2011 by Jo Alcock
Thanks to each of you who entered the Festive 24 Things quiz. We had three entries who correctly guessed each of the 24 clues, so we used the online random number generator to select a winner: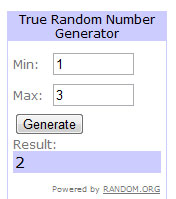 The winner is…. Georgina Hardy! Congratulations Georgina, and to all the other entrants who did very well indeed (everyone scored 23 or above!).
We'll post the full list of answers later today.
Calendar of posts
January 2012
M
T
W
T
F
S
S
1
2
3
4
5
6
7
8
9
10
11
12
13
14
15
16
17
18
19
20
21
22
23
24
25
26
27
28
29
30
31
Recent Posts
Tags