Browsing all articles tagged with archives hub

Posted in Festive24Things2010 by damyanti

I was thinking about archive collections when I remembered  WeVee which I came across a year ago. I think its a fantastic way to interact with film archives and have really enjoyed viewing some fascinating old film footage . The service is currently in beta and much of the footage is about the west midlands.
WeVee allows you to edit film footage and add a soundtrack, a nice simple multimedia mash up, my 'festive' attempt is available to view at – festive24things1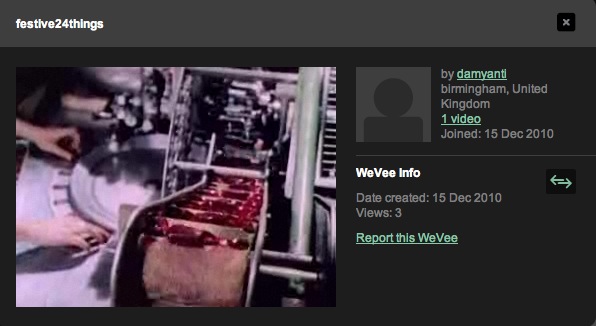 If you are interested in more discovering more great archive collections then the Archives Hub is a great place to start, covering nearly 200 UK institutions, some of their festive collections include
Welcome
Welcome to Festive 24 Things, originally an advent calendar based on the same idea as the 23 Things programme.
Join Damyanti, Jo and Trudi in their festive quiz through useful (and hopefully fun!) online resources. Each day there will be a cryptic clue to the title of a Christmas carol (or song) and a tool which will also give you clues. At the end of the 24 days, we'll ask you to submit your responses for each day and we'll draw a winner
Please subscribe to the blog, or follow us on Twitter.
Calendar of posts
September 2021
M
T
W
T
F
S
S
1
2
3
4
5
6
7
8
9
10
11
12
13
14
15
16
17
18
19
20
21
22
23
24
25
26
27
28
29
30
Recent Posts
Tags